Surplus Military Vehicles
Buying surplus items does not mean that you are throwing your money away over somesome overused or partly damaged item, although that thought could never be contested and is open to opinion because there are surplus items being sold in this condition.
However, allow me to change your thinking that not all surplus items are like this and surplus stores are not always a waste of money.
The truth is, you can still find very good items in surplus auctions, and these items are definitely worth your cash. If you are lucky, you might even find surplus military vehicles you have been dreaming of forever such as jeeps, Hummers or even a chieftain tank!.
Admittedly, not everyone would believe that these vehicles could be offered at these auctions. Most often, we think of auctions as those selling clothing, appliances, accessories, furniture, antiques, and many other such items. But times have changed, and surplus military vehicles have been added to the roster of products being offered at these auction sites.
These vehicles have gained considerable acceptance, and some fanatics and collectors are doing everything they can to see one parked in their driveway.
Military Vehicle on Your Drive!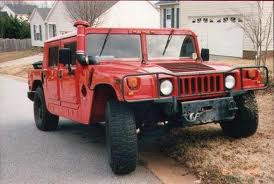 Finding good military vehicles is not actually that difficult nowadays. Just searching through the web will open up a lot of possibilities for you to own one. There are several surplus stores selling these vehicles, so just keep looking and enjoy the different offerings that will come your way.
Today, going to an auction physically is already an option while using online auction sites is the new hip. Using this technology, browse through complete catalogs matched with detailed descriptions, images and all you have to do is look for the perfect item that fits the bill.
Depending on the size of the auction site, you will have hundreds of thousands of products to choose from. However, like any transaction you do online, be aware that there are terms and conditions that limit your freedom to bid and win, so always check the fine print before going further in the game of luck.
Some great sites to find surplus military vehicles
Once you have checked and agreed with the terms, you can start out bidding. Check out some of the best sites like
armyjeeps.net
and
milweb.net
, where you can find huge collections of military vehicles stuffed with descriptions, photos, and locations.
Other sites you can visit are
Coleman's Military Surplus
and
Memphis Equipment Company
. These companies offer parts and accessories for these vehicles. Another good option for you is eBay, where you can find vehicles in their most accurate price.
Remember, when checking out sites, consider emailing the company or administrator for pressing questions you have.
For devout collectors, surplus military vehicles are the most awesome items or "toys" to add to their collection. Aside from the fact that you can do several things with these vehicles, your friends will surely be awed and envious once you get to drive one of them.